10 Best Fishing Rods and Reels 2022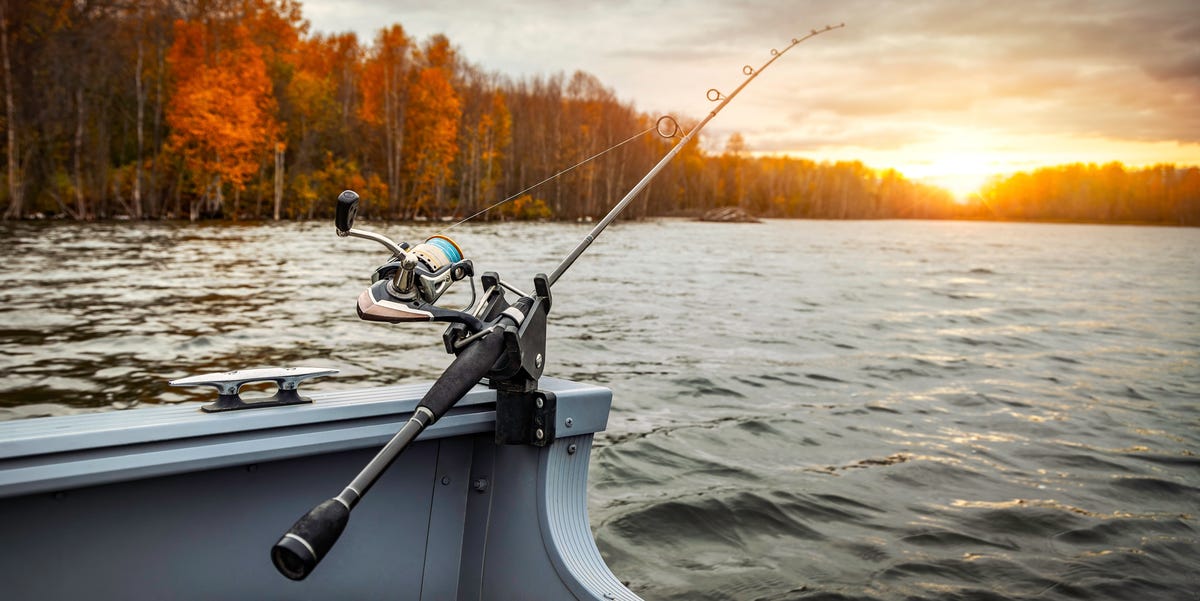 Teach a man to fish, and you let him hold your favorite rod and reel for a day. Teach a man to find his own rod and reel, and you'll hook him for life. A lot of attention is paid to lures and boats in the fishing world, but it's the rod and reel that do the real work. Today's rods are made from space-age materials, which means they can last a lifetime, handle a wider variety of fish, and take a beating. But the best beginner fishing rod brands aren't just high-tech, they're affordable and made by anglers, for anglers. Here are the 10 best fishing rods and reels to buy before you go fishing.
Shakespeare Ugly Stik GX2 1 Piece Combo Fishing Rod and Reel, 7ft
This is a do-it-all flipper rod, and anglers love it for one simple reason: you'll catch a lot of fish using it. Its graphic, fiberglass construction, with one-piece stainless steel guides, means it's tough as nails. And if The Big One breaks it (or if you manage to break it in half), a new one isn't going to break your wallet.
Shimano Solara Fishing Rod
The Japanese love bass fishing, and Shimano has been making a damn fine rod for many years. Shimano's Solara is a good alternative to Shakespeare's Ugly Stik. Its two-piece construction makes it easy to travel, and at twenty bucks, it's a perfect rod for beginners.
Spinning Rod Ugly Stik Elite 6'6″
Take the sturdiness, build quality and low price of the Ugly Stik GX2, then swap it out with a cork grip and more graphite for some extra feel. You have the Elite, which costs a bit more than the GX2, and proves the Ugly Stik's market dominance.
Fenwick AETOS Fly Fishing Rod – 7ft 3wt
Fenwick has been around since 1952; they were the first company to make an all-graphite rod. Their Aetos is an affordable fly rod option that outshines its competitors, with a fast action blank that's great for learning to cast. The five-weight is perfect for a variety of species, from trout to bass, and it's guaranteed for life.
St. Croix TRS70MF Triumph Graphite Spinning Fishing Rod with Cork Handle, 7 Feet
When you're ready for an upgrade, St. Croix offers some good options. Their rods are made in the USA and they have an excellent quality record. The Triumph is their best selling graphite rod and comes in a variety of sizes.
Shimano Stradic CI4 2500FB HG Freshwater Reel
This all-purpose reel is available in eight sizes for everything from trout to sharks. Its handle and frame are infused with carbon fiber, for lighter weight and better strength, and Shimano's proven smooth drag system.
Reel Abu Garcia Revo SX
Baitcasting rods are next level – they allow much more control over casting and hookups. Abu Garcia's Revo is a nice piece of machinery for the angler looking to up their game – say, drop that next cast right at the edge of the lily pads, where a monster bass awaits.
Orvis Clearwater Large Arbor Reels
In fly fishing, "big arbor" reels (literally, they're just bigger) are all the rage these days. The Clearwater is a solid and affordable option. It has a reliable drag system, from a trusted name in fly fishing, and with plenty of room for extra support so the big ones don't slip away.
PENN Battle II Spinning Reel
Penn's Battle II has carbon fiber drag washers to handle huge fish and an instant anti-reverse bearing to prevent tangles. And it's not just packed with cutting-edge technology, it's a work of art, with an all-metal body and orange detailing.
Pflueger Supreme XT Spinning Reel
Like the Penn, it has a sealed carbon brake. But its magnesium rotor and body, plus ten bearings for silky smooth action, are a major improvement.
This content is created and maintained by a third party, and uploaded to this page to help users provide their email addresses. You may be able to find more information about this and similar content on piano.io