Gray whale tangled in fishing gear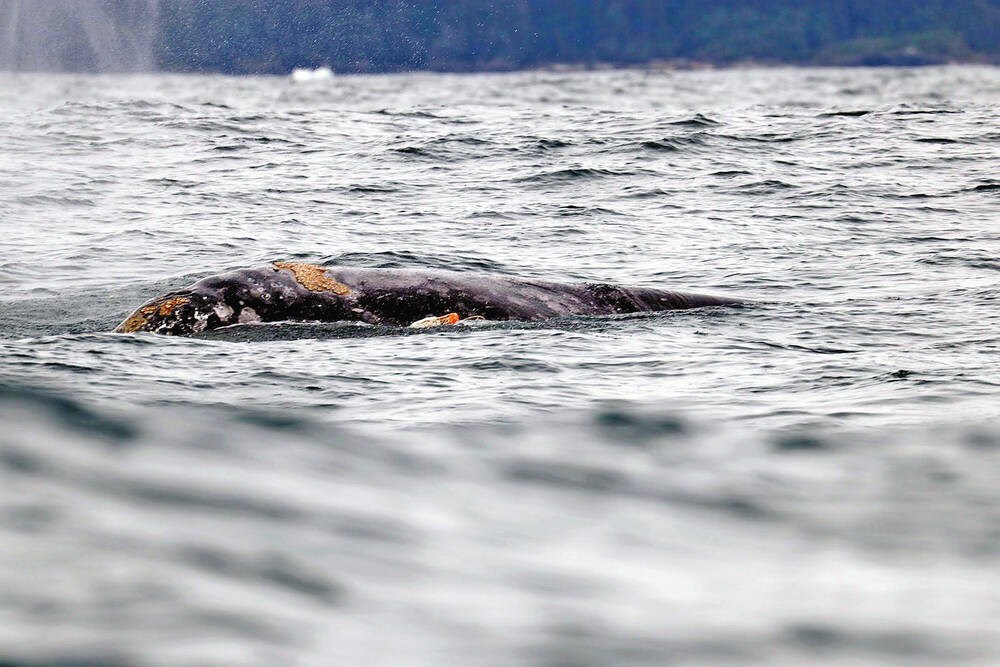 A gray whale was spotted in Clayoquot Sound entangled in fishing gear.
Fisheries and Oceans Canada officials, including researchers, are searching for the whale, along with the whale watching industry and other boaters, all hoping to save the large animal from drowning.
A buoy was seen next to the whale's body and a thick line was wrapped around the animal, DFO marine mammal coordinator Paul Cottrell said Friday.
"We don't know if it goes through the mouth or how it's attached," said Cottrell, who traveled to Tofino on Friday with a team trained to remove gear from whales.
Anyone who sees the whale is asked to call the 24/7 hotline at 1-800-465-4336.
If the whale remains entangled in the contraption, it could be a death sentence for the animal, Cottrell said.
"The problem with the animal pulling this contraption is that if it encounters more contraptions, it will cling to that contraption and so on.
"It becomes a vicious circle and it will be a lot of drag. It can cling to the bottom and anchor the animal and potentially drown it.
The whale was first spotted Thursday afternoon in the Clayoquot Sound area, but could not be found when boaters got out later.
At this time of year, many gray whales feed off the coast of British Columbia. Some, around 300 to 400, are part of a local population, while thousands more move from Mexico to the Bering Sea and north to the Chukchi Sea.
Migrating whales often feed in shallow water en route north.
It is not known to which population this whale belongs.
The high number of gray whales in the area makes it harder to find one entangled in fishing gear, Cottrell said.
When removing gear from whales, rescuers stay in a boat, using long aluminum or carbon fiber poles with cutters on the end. Drones are used to assess where equipment is and how best to remove it.
Rescuers don't get in the water because it's too dangerous if such a massive animal moves.
Gear removal is often successful, Cottrell said. He said he's been involved in 60 to 70 cases.
On Thursday, he was at the port of Delta in the Lower Mainland to remove gear from a stellar sea lion that had climbed onto a large mooring buoy.
Another gray whale entangled in the fishing year was spotted a week and a half ago in Prince Rupert harbour. He has not been seen since, but Cottrell informed Alaska officials.
When whales are found in this situation, Cottrell said the goal is to attach satellite tags to the animal so it can be tracked.