How to maintain fishing equipment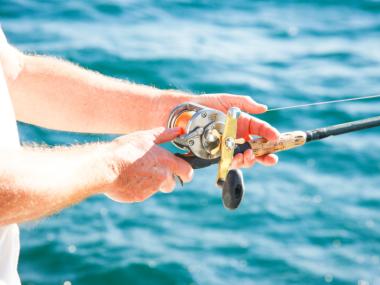 A rule of thumb when fishing in salt water is to rinse your rods and reels well after the trip to get rid of salt water residue, which will attack all metal parts of your fishing gear. If you don't, you risk ending up with hardware that needs to be repaired instead of maintained. If you feel resistance or a lack of smoothness in any of your reels when you turn the handle, you may need to replace one or two bearings. Fortunately, unless you have an antique, replacement bearings are relatively easy to find online, or you can go to local hardware stores like J&M Tackle, The Rod Room, or Sam's Stop and Shop and ask for. help finding the right parts.
I brought a Shimano Curado reel, my favorite bait caster, back to life with a $ 12 roll, and I'm still enjoying it today.
If you have taken care to rinse your equipment after a trip on the water, a simple regular maintenance should suffice.
Spinning reels
For spinning reels, I unscrew the spool and inspect the drag system, cleaning as necessary. I remove the side plate to check for salt water intrusion and make sure the gears are greased and the bearings are properly oiled. I then close it and check that it is working properly. New spinning reels rarely come with enough grease on the bearings. Don't overdo it, but make sure that a good amount of high quality grease covers the gears.
Baitcasting Reels
On baitcasting reels, it is essential to ensure that the worm gear is sufficiently greased to ensure that it moves the line guide from side to side to keep the line evenly distributed on the spool. Turn the spool upside down and look at the bottom of the line guide. You should see a small tree with grooves that guide the level wind back and forth through the spool. Apply a small amount of grease to the worm gear and turn the reel handle a few times to make sure the grease has completely coated the worm gear and the level wind is working properly. If the level wind hangs up or doesn't move smoothly, you will likely need to replace the ratchet that fits into the grooves in the worm gear.
Rods
Now is the time to check your fishing rods, primarily for cracks or potential issues in the reel seat. You definitely don't want the reel to come loose from your hands while you are fighting a fish.
Line guides
Then it's on the line guides. I will never forget the loss of the biggest tarpon due to a failed tackle. A chipped line guide frayed the line and after an hour-long battle the fish estimated at 150 pounds was gone. If you can, borrow a piece of hosiery from your spouse or girlfriend and thread it through the fishing guides. If there is a defect, the fine mesh of the pipe will hook it. Do not try to repair the guide. Replace it.
Some people are good at such repairs, but I'm not comfortable doing this kind of work if it could result in the loss of a fish. Therefore, I will take any damaged line guide to one of the hardware stores mentioned earlier to have it replaced. If you don't feel like maintaining your coils, these stores can take care of that for you as well.
If you've been dreaming of casting your line, start planning your next Gulf Shores and Orange Beach fishing trip today!