Jason Mitchell joins Northland Fishing Tackle
Category: article
December 14, 2021 by Keith Worrall
Amended December 14, 2021 at 12:27 PM
Fishing industry leader Jason Mitchell brings years of expertise to Northland's professional staff and product development team
BEMIDJI, Minnesota. (December 13, 2021) – Northland is proud to announce the addition of fishing industry mainstay Jason Mitchell, TV host and producer, and esteemed former walleye guide, to its ranks of professional water personnel free and product development team.
"We've been using Northland Fishing Tackle gear in open water for years. I am a big fan of Rainbow Spinner Harness, Butterfly Blade Float'n Harness, Deep V template, and much more. Northland offers iconic products, especially in the walleye fishing industry that we all know. I am therefore particularly happy to have now had the opportunity to help them develop their new Rumble Series range of baits. It was a dream come true to really get your hands on something, test products and develop products. And that's the game plan for the future, "Mitchell said.
He continued, "You look at the popularity of Fire-Ball Jigs and all the different spinners; they've done a lot of things right – over the past couple of years I've caught tons of walleye on various Butterfly spinner platforms. And I'm a huge fan of Whistler Jigs. And now Northland is bringing that same heritage to the crankbait market. "
Mitchell said what's been rewarding is the way the staff at Northland want to hear ideas, experiences, and if something isn't working, they want to know how to improve it. "I can understand that this is how they were able to develop some of the best products in the industry. If you put out a prototype and you can't catch any fish with it, let's see what's wrong, change it, or come up with something different, "Mitchell noted.
"And it's not just me, we have a whole team of guys peeling the paint off these decoys trying to figure out what works and what doesn't. Working with prototypes on the product development side is really refreshing. When we can get our hands on prototypes and develop baits over the summer and at the end of the year to figure out which ones worked and which didn't, that's pretty cool. Many fishing companies develop bait that has never been tested and market it with the hope that they can catch fish. Sometimes you are lucky, but often not. Putting in the time and developing bait that we are confident in means a lot. With crankbaits, there are a lot of factors to consider: profile, action, vibration, water displacement and buoyancy to name a few, "Mitchell noted.
Mitchell said he was very excited to get a bait idea and then prototype it for testing. "From the drawing board to the planing board, it's a pretty rewarding experience. Maybe you need a deeper diving curve, maybe you need to move the rattles. I just can't wait to take these prototypes and the ideas I have and develop some walleye catching baits.
New balsa Northland Rumble Shad
Mitchell has already had success with the new line of Rumble Series crankbaits, which he tested extensively last season across the Walleye Belt.
"I have been very lucky with the Rumble Series lures, especially the Rumble shad. Not all bait catches fish everywhere, every time, and if you say you are full of it. But the Rumble Shad really seemed to glow when the water got cold. I think there is something to be said for the action of balsa in cold water, at the beginning and at the end of the year. I was especially lucky when I started and stopped it with the cane in my hand. It really seemed to trigger fish. What makes the Rumble Shad different is that it has a shaved beak, which for years bass anglers would shave the edges of the beak, allowing the lure to start moving water at a slower speed while increasing your dive curve. The Rumble Shad has a very fine taper on the edge of the spout – you get that extra water displacement at slower speeds. It's almost like he's still moving when you stop him.
He added: "The color selection available in the Rumble series of crankbaits is also excellent. They really hit him out of the stadium. They have the colors that we need and want.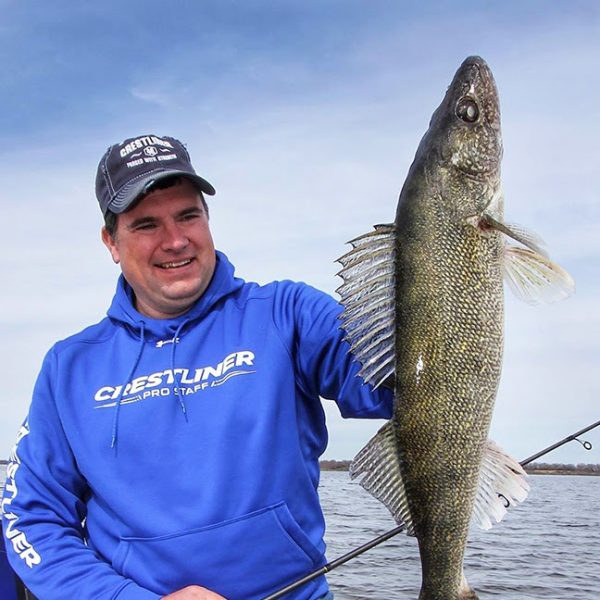 When it comes to working with the staff at Northland Fishing Tackle, he describes the relationship as "family". "It was great working with the Northland team, I've known them for years. I had a relationship with Northland's sales manager, Eric Naig, during his time at Berkley. The rest of the staff, Kyle, Sam, Charlie and Mike are all top guys. They are all confident and good at what they do. I've seen Northland's Marketing Director, Mike Anselmo, in sports shows forever, but never really connected. Now, by visiting him, I had the chance to learn more about his vast journey and what he brings to the whole team. It is very impressive. He's a wise man in the industry, and I respect that a lot.
"Jason is as influential as anyone in this industry and he has built a loyal following," said Mike Anselmo, Northland Marketing Director. "The relationship between Northland and Jason Mitchell is natural and easy to understand. His work with us directly benefits both the promotional aspects and the product development of our company. Jason is a credible voice and fishermen around the world value his opinion. We will do great things together.
Northland CEO Gregg Wollner added, "I have admired Jason's work for over 20 years. I am really looking forward to this opportunity. Jason will be a key part of our promotional mix and will play a key role in the development of our products. "
Once again, kudos to Jason Mitchell and Northland Fishing Tackle for bringing together more expertise to create baits that catch fish. The future looks particularly bright.