Rob Phillips: Pulling fishing rods can be addictive | Outdoor and recreation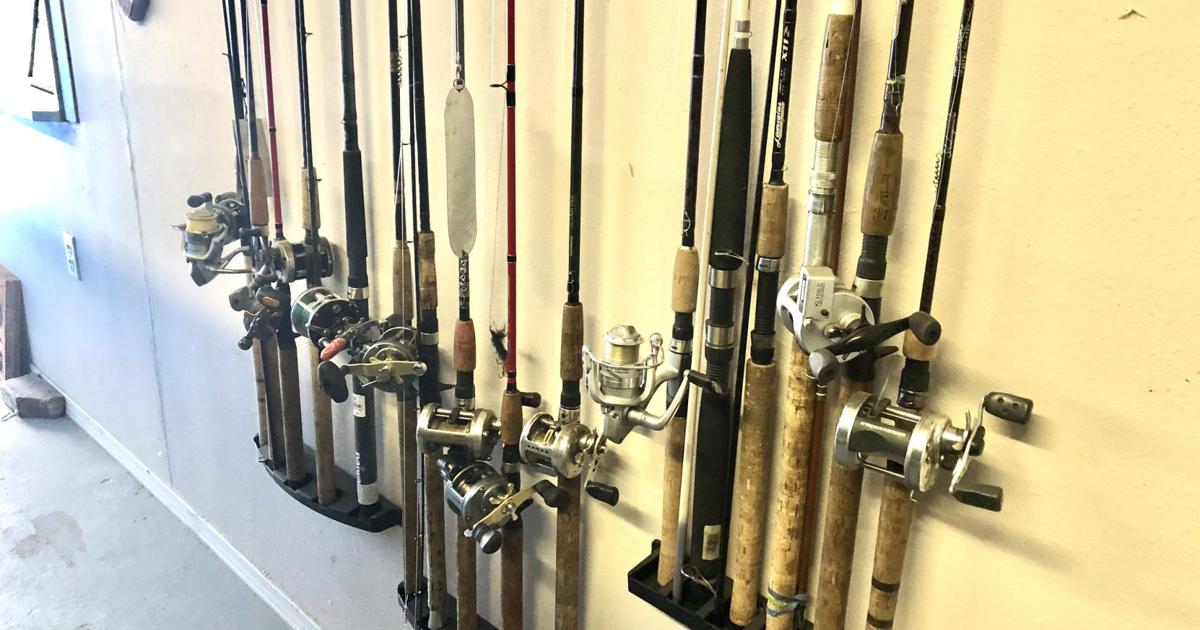 I bought a new fishing rod the other day. Not that this is shocking news. My family members are used to my occasional splurge on a piece of equipment to enhance my enjoyment of the outdoors.
But any logical person who looked at the four racks in my shop, filled with fishing rods of all colors and lengths, would wonder about my sanity, or at least my intelligence.
They are right, of course. A person can get by with one or two fishing rods for just about any type of fishing we do here. Maybe a spinning rod for fishing in creeks and rivers, and another rod, built with a bit more backbone, for the bigger fish we are chasing, would suffice.
Like many other fishermen, I have rods that, at least for me, are better suited to the different types of fish that we try to catch in the Northwest.
Yes, for trout fishing I have a spinning rod. Well, actually, I believe I have four fishing rods. And I have a lighter spinning rod that I designated just for fishing shad in the Columbia. Would any of my trout rods work for this? Yeah, but it's nice to go to one of the rod racks and know I have a spinning rod ready to tip when the fiery shad starts to roll up the Columbia by the millions.
Ditto for walleye rods. I'm sure one of the trout rods would work. But I like to use a level windmill to troll walleye, so I have a few rods rigged just for that. Again, when a buddy of mine calls and says "Let's go get some walleye," I can walk to the store and grab my two walleye rods, rigged and ready to go. No switching coils, no racing line through the eyes, no tether on terminal equipment, just throw them in my truck and go.
Speaking of which, my wife Terri thinks I could be just that. When she looks at the plethora of poles, she asks, "Do you really need that many rods?" Of course, the truthful answer is no. And I tell him. But then I start to explain the trout rods and walleye on her eyes like a glass and she heads home.
Over the years, Terri has learned that it is better not to ask. At least I'm not one of those guys with 30 rifles and shotguns in the safe. Oh, wait. This is not a good example. At least I'm not one of those people with a garage full of golf clubs.
The newly purchased new fishing rod is not a fancy and expensive thing. In fact, it could be described as mundane, monotonous, not very exciting, or even boring.
I have big priced rods made by G. Loomis and Shimano. I have several Lamiglas stems. But for one, they haven't stood the test of time in the hands of a somewhat clumsy fisherman who will stumble and fall down a trail to the river, or throw a 25-pound anchor over them or , well, you get the idea. Even expensive rods will lose the insert in an eyelet or break when trying to pull a $ 7 lure out of a sunken stump.
Because I fish for salmon and rainbow trout more than anything else, I'm proud to say that I have LOTS of different rods just to catch these species. I know a few people who have a lot more salmon rods than I do, but that's their problem.
The main reason I like having multiple salmon and rainbow trout rods is that I often bring people in my boat who don't have a lot of salmon rods. In fact, they don't have them, so I provide them to them. And, in today's world of finicky fish, you need extra long rods to handle all the extra turn signals, divers and sliders and whatever is in line before the lures. And you need medium length rods for fishing with plugs and other bait.
Believe me, it's one thing. Again, think of it like golf clubs. You need one club to hit 275 yards and you need another to hit 100 yards.
My new salmon rod is a Shakespeare Ugly Stick. It's eight and a half feet long, and from what I've experienced with two of the smallest Ugly Stick rods I own, this one should be virtually indestructible, even in my hands.
When we fished with a guide in Alaska last summer he only used rods like the one I just bought. He uses them for salmon and halibut and they've worked really well. No, there is nothing to brag about with your highfalutin friends at your highfalutin dinners. But luckily I didn't or attend any of these.
So, did I need a new fishing rod? Nope. But ever since I brought back a 40lb Halibut with the Ugly Stick last summer, I've wanted one. Believe me, the new rod will do a good workout in the months to come. We will see how indestructible it is.
Next on my shopping list is another rod holder. Obviously, I'm going to need it.
• Rob Phillips is an award-winning freelance outdoor writer who has written the Northwest Sportsman column for over 30 years. He can be contacted at [email protected]