Shimano revamps the SLX A line of fishing rods
Shimano's SLX rods already have an excellent reputation in the tournament level fishing gear market. Now they've revamped their line of SLX A rods, to deliver tournament-level performance and durability at a price that can fit almost any angler's budget. The new SLX series of rods is available in a wide range of blanks with different lengths, powers and actions. Ideal for bass anglers of all kinds, from the tournament trail to a fun family afternoon.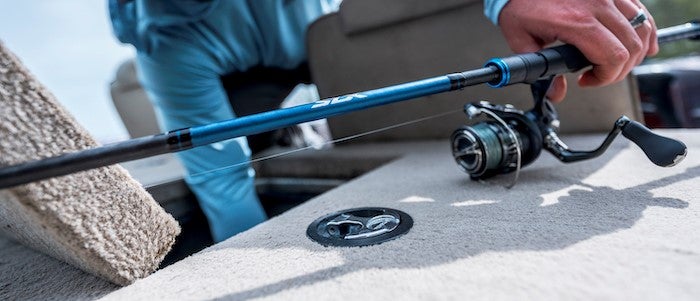 The expanded range of SLX A casting and spinning rods are infused with Shimano's exclusive DIAFLASH technology. This results in a lighter, stronger and more responsive rod blank for the new SLX A rods. They also provide better control when targeting trophy fish. DIAFLASH technology reinforces the heel of the upper with diagonally wrapped carbon tape in an X pattern on the outermost layer of the upper blank. This reinforcement not only adds to the aesthetics of the stem but also adds rigidity to the lower part of the blank, reducing stem ovality and meeting the demands of contemporary bass presentations.
The SLX A rod is built with tournament quality components and features throughout. Casting models use the K style titanium oxide guides while spinning models feature single leg guides, both models have stamped frames to protect the insert in the guide. In addition to reducing friction and improving line management. The rods have custom tapered EVA handles for maximum comfort and vibration transmission when retrieving lures. Both swimbait-specific models feature full EVA foam rear handles and enlarged front handles for easier two-handed casting of big baits while chasing trophy bass.

The redesigned SLX A Series presents bass anglers with 7 specialty spinning rods and 16 spinning rods – including four glass casting models and two exclusive bait rods – to quickly and easily choose the right rod for any given situation. When fishing shallow and tight for cover, go for the 7′ SLXC70MHA with medium power and fast action. Designed for lures up to ¾ oz, this sleek spinning rod excels at presenting lightweight lures, allowing anglers to stay further away from primary casting targets without sacrificing accuracy. The fast-action, high-power 7'5″ spinning rod (SLXC75HA) is the perfect choice for punching Texas-mounted plastic and tungsten weights through dense cover. Exceptional versatility is the hallmark of the 7'2″ Medium Power Extra Fast Action Spinning Rod (SLXCX72MHA), allowing anglers to accurately present a variety of baits at both short and long ranges. This rod The versatile spinning rod is also available in a two-piece design (SLXCX72MHA2) for anglers on the go Two dedicated bait rods in the SLX A range – the 7'3″ medium and heavyweight SLXC73MHSBA for lures from 1 to 4 oz. and the 7'8″ heavy-power SLXC78HSBA for 2-8 oz lures – giving bass anglers exceptional performance new ways to present the biggest baits and land trophy-caliber fish.

Find the perfect balance of power, sensitivity and price with the new generation of SLX rods, available now from authorized Shimano dealers with a MSRP of $99.99 at $109.99.
SLX-A Features
DIAFLASH Technology
24 ton carbon blank construction
Titanium oxide guides
One- and two-piece designs
Custom reel seat